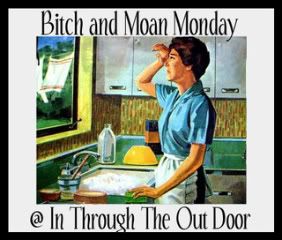 This is my first installment of something I discovered last night called "Bitch and Moan Mondays." Not that I'm a ray of sunshine any other day of the week, but it's nice to have an excuse to complain.
Last week I declared that
I hate hipsters with the white hot intensity of a million more hateful versions of me
. Nothing inspires more ire in my soul than a pair of skinny jeans and an ironic tee-shirt (Put a can of that swill PBR in the guy's hand, and I feel a hate crime comin' on!). Nothing, that is, until I met the lady next door. Or, more specifically, her dogs.
As the last willowy strands of winter in the South twist and break away, we're treated to the occasional glimpse of spring. I've never experienced such lovely weather in February before. Saturday night, as my mother back in Jersey was digging out from under three feet of snow, we had a barbecue with our two (and only two) friends. It's still chilly at night, so we ate at the kitchen table, but still... It was a nice evening.
Sitting outside watching Man do what men throughout history have been hardwired to do: throw dead animals on a fire, turn twice, dish out, I began entertaining notions of new lawn furniture. I pictured a table and chairs under a pretty gazebo. I imagined sitting outside on a warm April morning with
New Lappy
(coming tomorrow!) and a cup of coffee by my side. I saw Sunday brunch picnics and evening cook-outs with strings of white star lights strung about the fence. I began seeing myself as
the fabulous Martha Stewart-esque entertainer
I was meant to be.
I heard the music and laughter of a successful outdoor dinner party in my head.
I heard the shrill, fevered barking of three untrained wiener dogs on the other side of the fence.
Oh yeah. Now I remember why we hardly ever come out here.
As the story goes, the old woman next door was lonely sitting by herself on her back porch swing, swilling cheap beer until she passed out in the Louisiana sunshine. So, to keep her company, her son got her a mini-Dachshund. Said Dachshund took up the habit of sitting at the fence next to our yard (right under the bedroom window I might add!) and barking like a mad-creature.
All. Day. Long.
In an effort to quell the poor dog's anxiety, the lady next door thought perhaps if her pup had a friend to play with as she swilled cheap beer and passed out on the swing they would keep eachother company, thus keeping eachother quiet. So she gets another mini-Dachshund. Then there were two yappin-ass wiener dogs sitting at the fence barking.
All. Day. Long.
We aren't quite sure what the reasoning was behind the third puppy, but one day there appeared three (
THREE!!!
) yappin-ass mini wiener dogs at the fence. Now when we so much as think about stepping foot out the back door in the middle of the day (sometimes at night) we're treated to a trio of frenzied
yap-yap-yap-yap!
as the little ones clamor all over one another and the fence to get our attention. I've tried to wait them out-- hoping they'd eventually tire themselves and move onto sniffing eachother's butts or digging up the lady's flowers.
Ladies and Gentlemen, those dogs barked for twenty straight minutes without so much as losing a notch in the volume department. Nor did they seem to tire of jumping up and down, tripping over eachother or frantically wagging their nubby little tails. From my vantage point in the yard, I could see the old woman's feet dangling off the swing.
That's it.
I thought,
She's finally drank herself to death.
The next day she and her pack of glorified rodents were out there again..
All. Day. Long.
This isn't to say we haven't tried to remedy the situation. We've called the Parish numerous times. It's little relief to know that she's at least stopped leaving them outside at night, but there isn't much that can be done during the day.
Then, hope.
While channel-surfing one sunny afternoon (I say "one" like I don't
do it all the time
), I saw a promo for a new reality show. It seems Steven Segal has been riding along with the Jefferson Parish police for quite a number of years now, and they've finally gotten around to making a show about it. Though he's a bit overweight and clearly nobody on the force takes him seriously, I remember Mr Segal as a no-nonsense, kick-ass-and-take-names Hollywood superhero.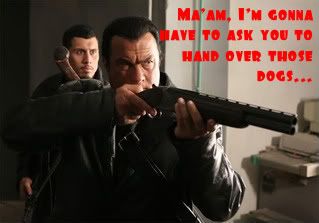 Surely if I asked nicely the Parish would send him over to reason with the lady, and possibly (hopefully) tai-chi kick those little rascals into the next state (where they would hopefullly land in a junkyard guarded by a pack of hungry German Shepherds... Or lions.).
Sadly, Steven is across the bridge in the not-so-nicer neighborhoods battling drug dealers and drunken gun-wielding car thieves. Over here on the perpetual Sunday afternoon at the bird sanctuary side of the Parish, a threesome of annoying Dachshunds does not constitute a visit from the Marked For Death one.
Well, poo!
Perhaps if I go across the street and sell the neighbor kid some of my Tylenol PM, then swipe their soccer mom mini-van to take a joy ride through the bird sanctuary I can get someone who garners actual
results
to come into this neighborhood.
Or perhaps if I ever invite you over for a barbeque, you should steer clear of the wiener-schnitzel.
Do you have any annoying neighbor horror stories?