The Blogging Academy has once again bestowed me with a blogger award, and since I've only been at this regularly for a short time I'm pretty excited.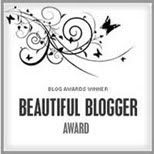 Thanks, Homesick Cajun!
Okay, according to the rules of blog-awarding you have to post 7 things about yourself you may not know. Well, since 20 of my now 25(!) readers have discovered me within the week, this should be easy.
1. Before I die (or before it crumbles), I
must
see the Coliseum in Rome. Shamefully, this comes from an unhealthy obsession with the movie "Gladiator."
2. I like to fancy the notion that my life is a chick-lit novel. I've been known from time to time to walk around with a running commentary in my head as though I'm narrating the story. I'm on my own best-sellers list.
3. My favorite pair of shoes is a super-sexy, super-high heeled pair of leopard silk and shiny patent leather Steve Madden peep-toes. I've never worn them, but I have them positioned in the closet so that I can admire my babies every time I open the door. Someday I'll have occasion (and balance) to wear them.
4. After thing number three I guess it goes without saying that I have a problem with impulse control. Especially when it comes to shiny, stylish, pretty things being sold at a sweet discount. And
especially
when it comes to shiny, stylish, pretty footwear.
5. I not-so-secretly daydream about being asked to be one of those guest commentators on VH-1. You know, like "I Love the 80's" or "Best Week Ever." I'm snarky! I can be quippy! Call me!
6. The sound of seagulls and that gross sulfur-y stench of low-tide makes me terribly homesick. Yesterday there were seagulls in a parking lot fighting over a bag of garbage and I got a little weepy.
7. I'm slightly addicted to internet memes. My current favorite is
Hipster Kitty
, because I hate hipsters with the white-hot intensity of a thousand more hateful versions of me.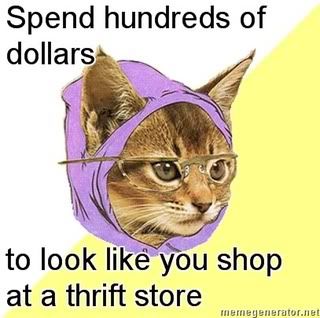 Now you have to pick seven people to pass this award on to:
1.
Thirty: Own Up To Being Grown Up
(Though I will never do such a thing!)
2.
A Day In The Life of a Surferwife
The name of her blog alone makes me miss living at the beach. *sigh*
3.
A Southern Belle Trying Not To Rust
'Cuz I'm a Yankee that'll never pass as a Belle. I curse too much in public, and I think petticoats make my ass look fat.
4.
It's Blogworthy
Because everything totally is.
5.
The Lost in Suburbia Blogs
Because I am, too!
6.
Tales From The Chicken Coop
Because I totally endorse girls behaving badly in public!
7.
Diary of Curvy Jones
A blog I discovered about ten minutes ago, but love already!
So there you go. I'm starving, so I'm gonna go make breakfast then tell everyone they have an award here.