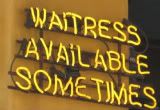 While I'm waiting for VH1 to discover me as the next hottest clip-show commentator, I wait tables. Let's get something straight: I don't hate my job. I mean, I put up with a lot of b.s. from people who don't seem to understand that I wasn't hired by their mother to specifically cater to their every outlandish request, but I also brought home $300 for two days' work this weekend, so... It all washes out in the end.
The problem with food service is you have to watch people eat. You need a diet plan? Nothing will put you off your own lunch like witnessing a 75 year old man who was clearly never taught not to eat (or breathe for that matter) with his mouth open masticate a plate of over easy eggs. In a word, gross!
Not that it matters. Anyone in the restaurant business will tell you they've forgotten what a hot meal tastes like. I don't know what it is, but you could be sitting through the slowest lunch shift in the history of time, and as soon as you serve yourself up a cheesy, gooey, sausagey omelet everyone in town shows up at your door. By the time you manage to get back to it to steal a bite, your delicious meal is more an egg-colored Styrofoam pillow. Yet somehow I've managed to gain 10 pounds working that job.
Go figure. You just get used to cold food after a while.
The thing I hate most about my job (that I don't hate) is this notion the rest of the world has that I
should
hate my job. That it's beneath most people and that I should be somehow ashamed of what I do. Yeah, I'm crying all the way to
Coach
.