My first Mardi Gras was a shining success.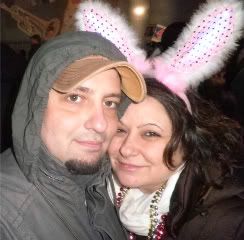 Light-up bunny ears, Hell Yeah!
Well, there was that incident at one of the parades when I nearly fist-fought a lady over a string of plastic beads (Worth all of 0.25 American, I'm sure).
In my defense, she was taking bead-catching
faaarrr
too seriously, and after 20 minutes of this bitch knocking into me or shoving me aside, I'd finally had enough. We both caught the same string, and thus the stand-off began. She wouldn't let go. I wouldn't let go. Our eyes met, and just as the thought to break the strand to spite her crossed my mind, Man intervened.
It just isn't worth it, Em.
Sigh. Of course he was right. Going to war with some woman on the streets of New Orleans over little plastic baubles would have been stupid. Especially since there seemed to be an unending supply of such things that day. It was the point though! She was acting like they were throwing money off those floats! Someone had to teach her some parade-manners, and leave it to me to try bringin' Jersey-tude to the party.
After that I gave any bead, coin, toy or stuffed animal that I managed to body-check or wrestle away from that woman to the little girl standing to my left. (Spite is the new violence.)
However, I swear to all of you: I would have brought it to blows had that bitch tried to get my string of fiddle playin' alligators.