It's been a crappy day.
Like one of those
I barely Made it To the Car Before Having a Sniveling, Crying Meltdown After Work
kind of days.
No, I don't want to talk about it.
Anyway, even though I scarfed down a bowl of Creole Cream Cheese ice cream with fresh bananas when I got home, and in spite of the two hour nap I took after, I'm still in kind of a downer mood. There's only one thing left to put a smile on my face.
Silly pug pictures!
Nothing makes me happier than a good lol pug.
So here is, in no particular order, a few of my favorites....
I hate when that happens, too.


I break for ice cream. Always.


I'm already saving for botox... Just in case.


Can you delete a few of my coworkers, too?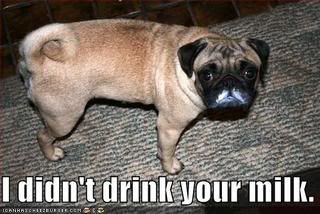 As long as you didn't drink my cocktail.


Werd.